Rooftop Bar
MORE INFO: rooftopbar.co
CONTACT: info@rooftopbar.co
PHONE: (03) 9654 5394
OPENING HOURS: 12pm - 1am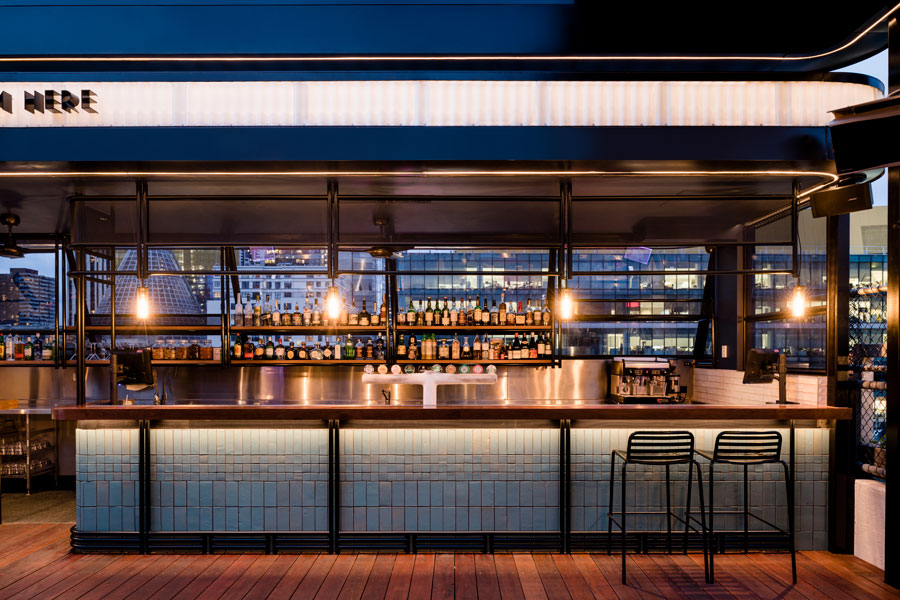 A beloved Melbourne institution, Rooftop Bar is set seven storeys atop Curtin House with jaw-dropping views of the CBD skyline. Grab a few friends, slip into a deckchair and enjoy an intimate evening under the stars.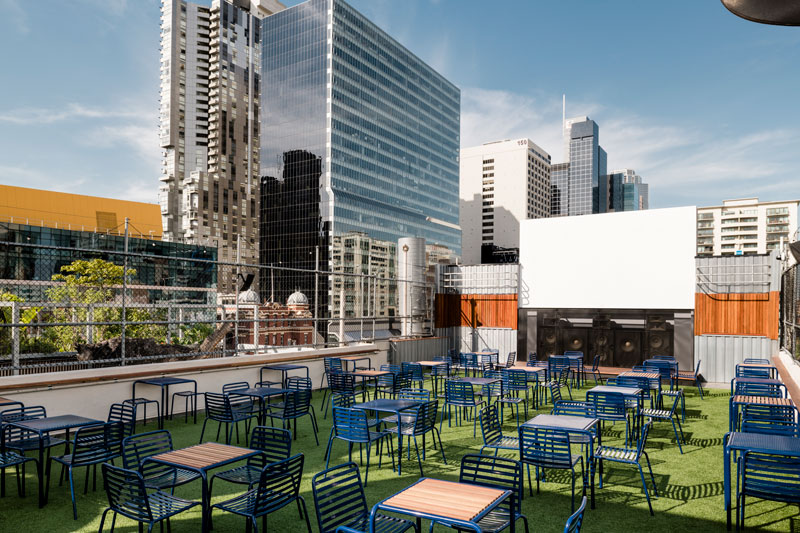 The Rooftop Burger Shack pumps out delicious burgers and fries and the bar features a modest selection of drinks to cater for everyone. Rooftop Bar is fully licensed and open to all patrons over 18. we do not book tables or reserve areas. Please be aware that during the cinema season, access to the bar is limited during the screening of the film. Films do not screen Monday's or Friday's.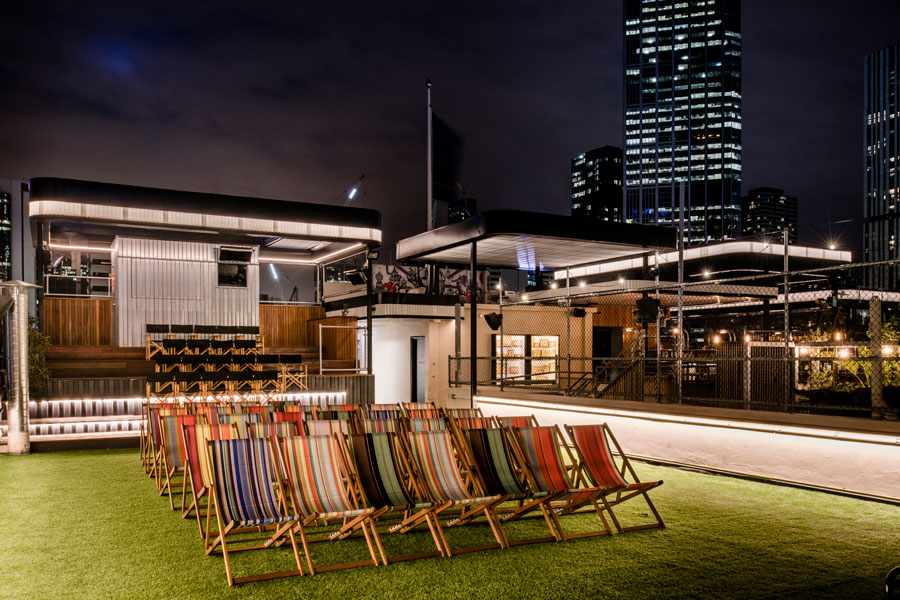 ---
Rooftop Cinema
MORE INFO: rooftopcinema.com.au
CONTACT: hello@rooftopcinema.com.au
PHONE: (03) 9654 5394
OPENING HOURS: Evenings in Dec, Jan, Feb, Mar. No screenings on Monday or Friday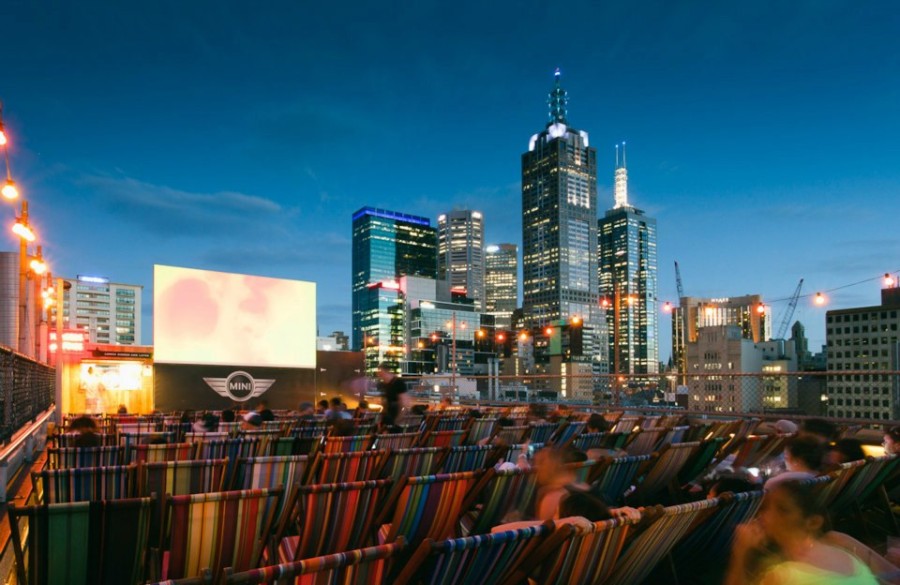 A cinema on a roof in the heart of Melbourne. Owned and operated by a sharp team of creative minds, Rooftop Cinema is committed to showcasing arthouse, classic and recent release films in a completely unique urban environment. Rooftop Cinema is built to be an urban idyll, a complete contrast to the machines, noise, bustle and crowds of the city. Up on the roof you have the sky above you, the grass beneath you — and a film and the Melbourne skyline in front of you. Rooftop Cinema is fully licensed and serve delicious fresh food from the Burger Shack on the roof right up to the start of each screening.
 Mesa Verde
MORE INFO: mesaverde.net.au
CONTACT: hello@mesaverde.net.au
PHONE: (03) 9654 4417
OPENING HOURS: Monday - Friday 4pm til late, Saturday - Sunday 2pm til late

From the dreams and imaginations of Tim Peach, comes Mesa Verde.
It's namesake is inspired from Sergio Leone's 1971 masterpiece, Duck, You Sucker, where a lone soldier of fortune and a love for TNT becomes involved with a rebellious group who attempt to rob a bank in a town called Mesa Verde.
Their approach to traditional Mexican dining is bold and unique. Utilising seasonal and local produce, our kitchen pushes the boundaries whilst acknowledging the beauty of long-established Mexican flavours and techniques. Be sure to add a few dashes of the house made explosive Hazard Sauce to any dish. Guaranteed "To make you see double and feel single".
At Mesa, they're obsessed with everything agave. Boasting one of Australia's largest collections of Tequila and Mezcal, there is something for the curious novice to the seasoned aficionado. Their agave obsession does not end there, with a list of fresh and inventive margaritas designed to get you in trouble. Not an agave fan? No problem. There is plenty of firepower on the back bar, which hosts rare and interesting spirits from all around the globe.
On the weekends, Melbourne's finest DJ's take control of the Mesa Verde airways flipping records from their own personal collections.
Feel entranced by the spaghetti western saloon inspired bar and transported back to a time where outlaws ran the towns.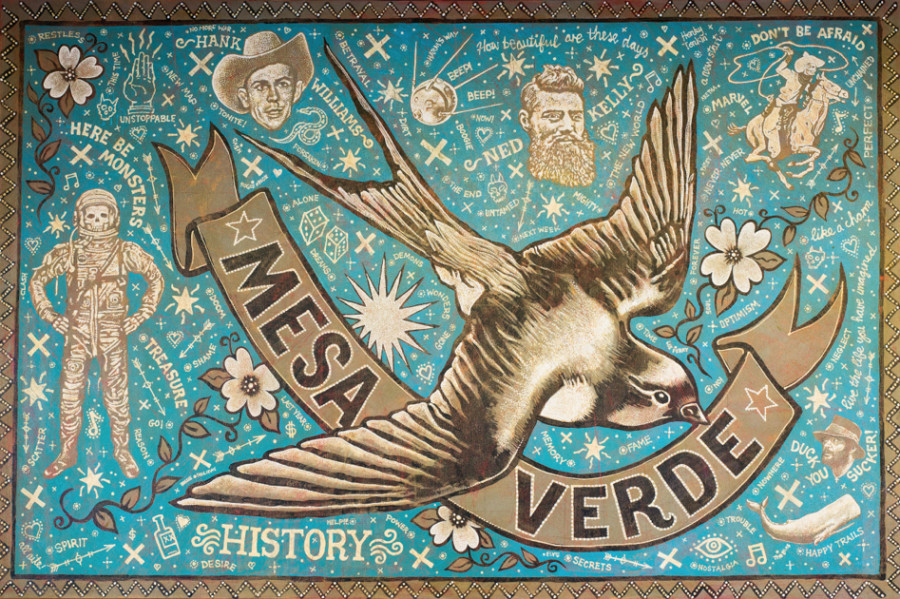 A Friend Of Mine
Design Studio
MORE INFO: afom.com.au
CONTACT: suzytuxen@afom.com.au
PHONE: +61(0)417 767 860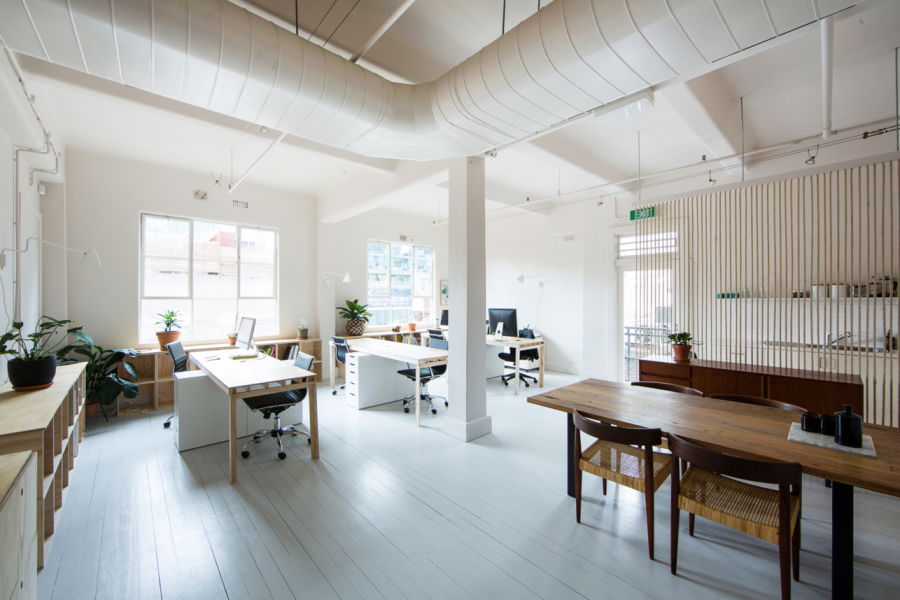 A Friend of Mine, run by Suzy Tuxen, is a holistic design practice based in Melbourne. We work across a mix of industry sectors and design disciplines, adapting creative thinking to varied budgets. From developing brand identities, signage, responsive websites and everything in between.
---
Sibling Architecture
MORE INFO: siblingnation.net
CONTACT: sister@siblingnation.net
PHONE: +61(0)417 767 860
OPENING HOURS: 9.30am - 5 pm, Mon-Fri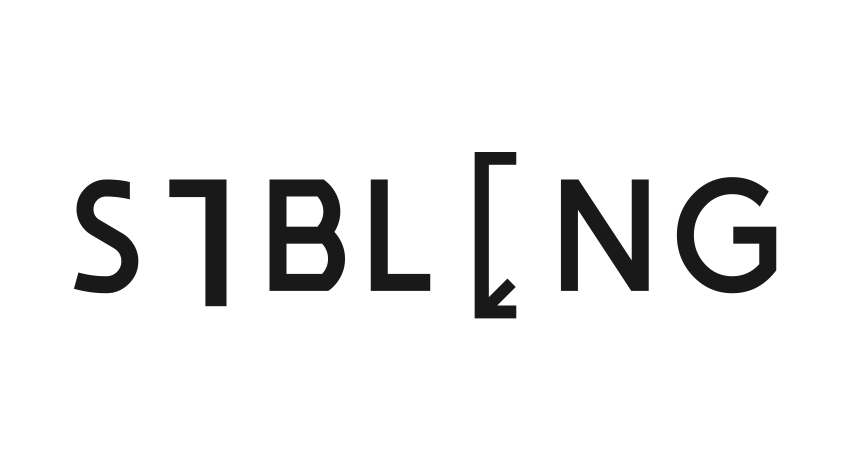 SIBLING is an architecture office that works at the intersection of design, urbanism, cultural analysis and graphic communication to produce new and unexpected spatial outcomes - from buildings, to installations, urban strategies and events.
---
DOT COMME COLLECTION
MORE INFO: dotcomme.net
CONTACT: shop@dotcomme.net
PHONE: +61(0)401 613 226
OPENING HOURS: 11am - 6 pm, Mon-Thu. 11am - 7pm, Fri. 11am - 6pm, Sat. 12 - 5pm, Sun.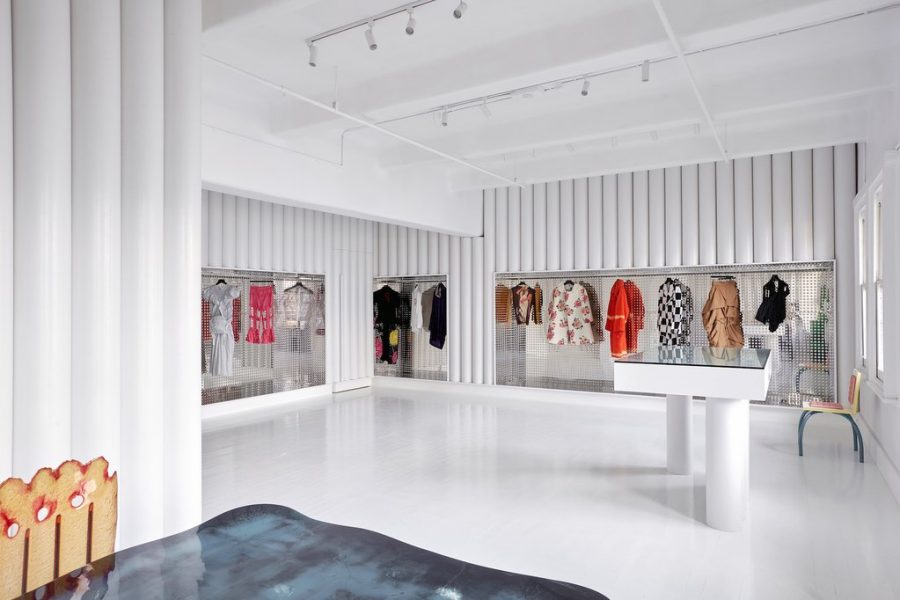 Metropolis Bookshop
MORE INFO: metropolisbookshop.com.au
CONTACT: books@metropolisbookshop.com.au
PHONE: (03) 9663 2015
OPENING HOURS: Monday to Thursday 10am - 6pm
Friday 10am - 7pm
Saturday 10am - 6pm
Sunday & Public Holidays 12pm - 5pm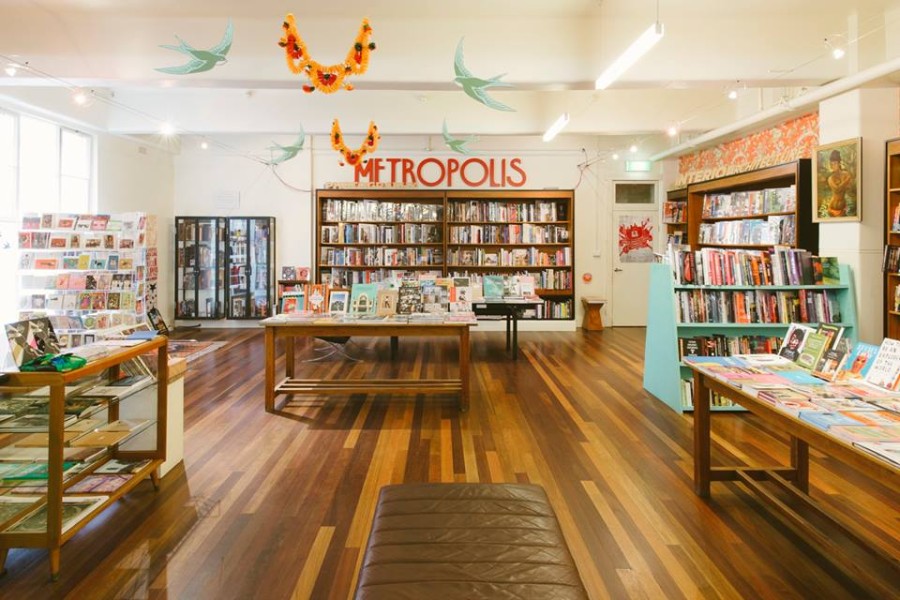 Metropolis Bookshop is an independent bookshop specialising in the best of graphic design, artchitecture, photography, popular culture, fashion, film, music, art books as well as a curated collection of fiction, non-fiction, childrens books, cooking and craft titles. We have access to global book data bases and take special orders for titles not in store.
---
dot COMME
MORE INFO: dotcomme.net
CONTACT: shop@dotcomme.net
PHONE: +61 412 664 868
OPENING HOURS: Monday to Thursday 11am - 6pm,
Friday 11am - 7pm, Saturday 11am - 6pm, Sunday 12pm - 5pm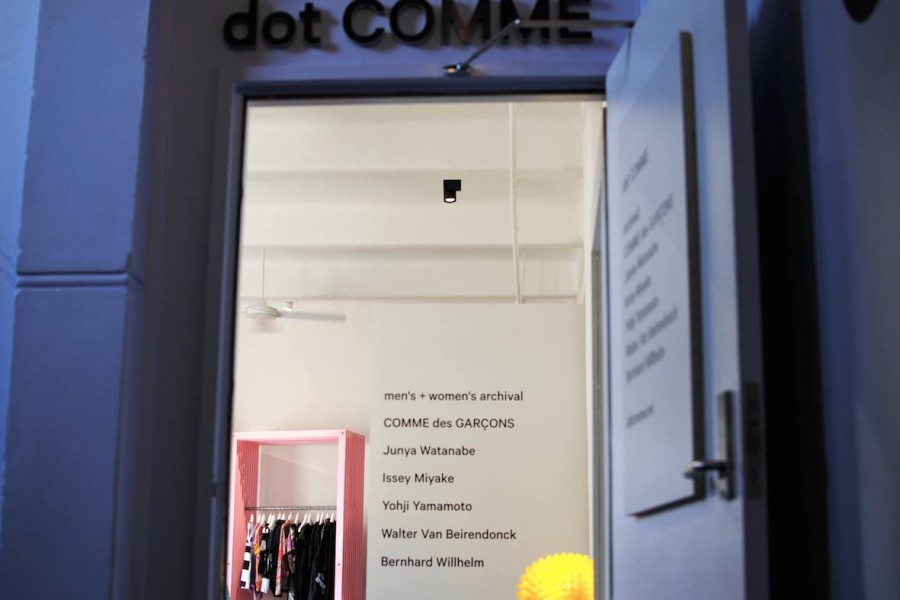 Archival pieces from COMME des GARÇONS, Junya Watanabe, Issey Miyake, Yohji Yamamoto, Walter Van Beirendonck & Bernhard Willhelm.
---
PAM Store
MORE INFO: perksandmini.com
CONTACT: shop@perksandmini.com
PHONE: +613 9654 6458
OPENING HOURS: Monday to Thursday 11am - 6pm,
Friday 11am - 7pm, Saturday 11am - 6pm, Sunday 12pm - 5pm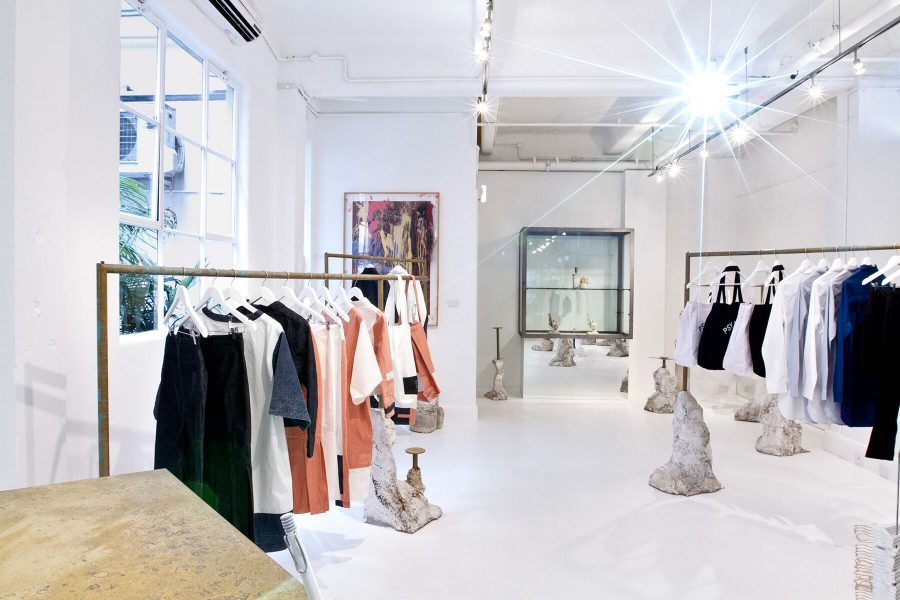 Populated by a series of structures hand built by Misha Hollenbach, the space adopts a DIY, vandalised reiteration of brutalist design, viewed through a membrane of formal classicism. As with much of P.A.M.'s output, a tension between beauty, chicness and "the street" seems to occur naturally in the new space.
Alongside new P.A.M. Men's and Women's collections is a selection of likeminded labels including Gosha Rubchinskiy, Bernhard Willhelm, Visvim, Cav Empt, Wtaps, Pelvis, Aries and Neighborhood. A selection of books, and a growing collection of records (from The Trilogy Tapes, PAN Records, Workshop Records, Born Free Records, and others) have also been added.
---
Human Salon
MORE INFO: humansalon.com
CONTACT: human.salon@gmail.com
EMAIL: (03) 9663 1770
OPENING HOURS: Tuesday 9am - 6pm,
Wednesday - Thursday 10am-9pm, Friday 10am-7pm, Saturday 9am-5pm

The Toff In Town
MORE INFO: thetoffintown.com
CONTACT: info@thetoffintown.com
PHONE:(03) 9639 8770
OPENING HOURS: Carriage hours: Monday – Thurs from 5.00pm,
Friday from 3.00pm, Saturday from 5.00pm, Sunday from 4.00pm
Stage hours: Saturday to Thursday - see shows page
Friday from 5.00pm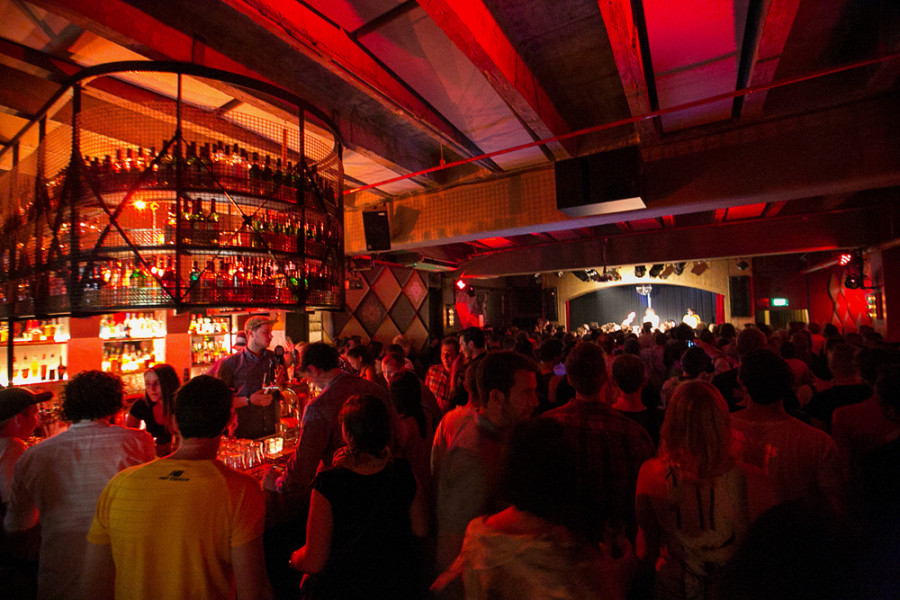 The Toff's main bar or 'carriage room' is fitted out with a unique train carriage running down the centre, made up of booths which can be reserved for dining. Each booth can be made as private as desired by closing doors, pulling down blinds and using the discreet buzzer for service-evoking the intimacy and elegance of early 20th century train travel.The restaurant created by chef Karen Batson boasts a Thai menu, designed to be shared in an intimate Toff booth. There is a sophisticated beverage list to match, with local and imported beers, wines and spirits. Cocktails are available for those who wish to add an extra splash of decadence to their evening.
The mood is set by local DJs playing lush, dark and sexy sounds into the wee hours of the morning-with the bar and kitchen opened until 3am weekdays and 5am on the weekends.
The Toff's stage room hosts the full spectrum of Australian performing arts including music (from pop to country to ensembles), dance, comedy, and theatre, as well as touring international acts. Described as 'a naughty room with an intimate cabaret feel' the space has a capacity ranging from 150 (fully seated) to 300 (standing only). Featuring live music most nights of the week, the room transforms into a nightclub later into the night featuring local DJs weekly plus international guests on a regular basis.
ALL BOOKINGS AND FUNCTIONS INFO:
info@thetoffintown.com
Please include your phone number when you are emailing about show bookings.
Cookie
MORE INFO: cookie.net.au
CONTACT: info@cookie.net.au
PHONE: (03) 9663 7660
OPENING HOURS: Open 12pm - 3am. 7 days a week
Kitchen Open Until 11pm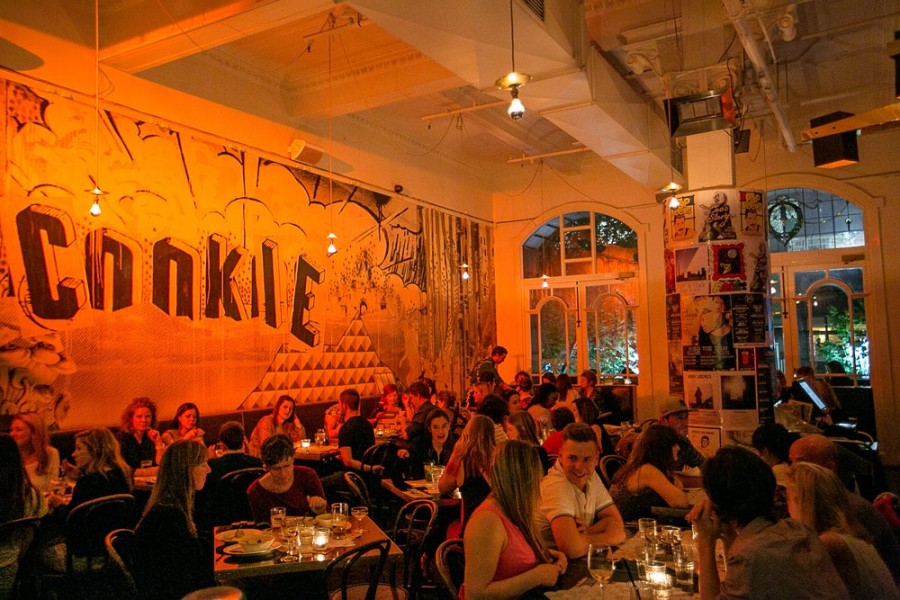 Over 200 Beers & an 88 Page Wine List…..you can't go wrong
The Bar:
To live up to its mantra of being a "beer hall", there is no holding back. With over 200 hundred listed beers & 24 on tap, there is still room to graze along the massive marble bar. Paying special attention to the local microbrew market from the single hopped "True South – Minted Ninja" to a fortified" Brew Dog – Tokyo" from Scotland. All in all, knowledgeable staff are always on hand for those seeking advice on beers to sample or on matching a beer to cool the heat from the kitchen.
If beer is not your thing and you are up for a good read, you will be well and truly rewarded with the wine list. With over 70 pages that spans more than 20 countries, you will find a diverse selection of wines to choose from. Or to simplify things, head straight for the "Romantic's" that have been specially selected to suit the Thai kitchen.
Eating House:
The restaurant is headed up by chef Karen Batson whose inspired menu has won countless awards and rave reviews. It all is done with an element of tongue in cheek, responding to its location with the neighboring China town. Rose patterned plastic plates & doilies have taken on a new meaning. The true force of the kitchen comes from a dynamic Thai brigade. Where Regional and family favorites have taken the menu past the staid concepts of Thai food ending at a green curry. Watch out for the Crispy Fish Salad with Green Papaya & Pickled Crab or the signature Stir Fried Pork Belly with Red Curry Paste, Green Peppercorns & Kaffir Lime. The menu's diversity allows for a quick snack with a beer or for one to graze through the memory lanes of Bangkok.